Maverick Construction Inc.
Contractor to the Grand Hotel of Mackinac Isand.
builder, excavation, woodworking, millworks, historical restoration.
TOO TOUGH FOR THE REST? CALL THE BEST!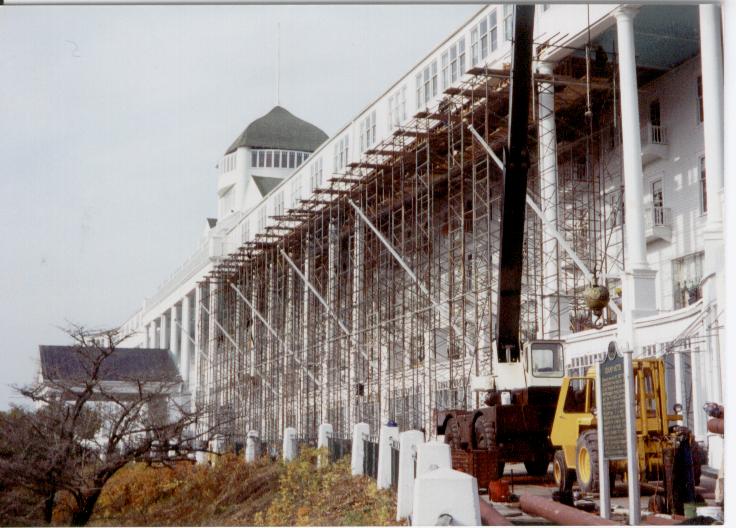 Letter of Introduction
Maverick Construction Inc. was established on December 28, 1993 as a general contractor primarily to service Grand Hotel of Mackinac Island.
Due to the difficult logistics and short time frame, Maverick evolved as a contractor self performing in the areas of excavation, concrete, structural steel, rough carpentry, finish carpentry, cabinetry, roofing, siding, insulation, and furniture. Unlike most of our competitors the only thing we subcontract out is the drywall, plumbing and electrical.
As the evolution progressed we started a millwork shop in a 3000 sq ft space on Ferry Lane in St. Ignace, Mi. (circa 1995). After completing projects on the Grand Hotel we branched out to other contractors on Holy Childhood of Jesus Church, Lake Superior State Univ., Northern Michigan Univ., State of Michigan and other commercial and residential projects.
Maverick Construction Inc. has always dabbled in excavation. With the 1998 purchase of the Smith Rd. gravel pit our residential sales increased. The pace was accelerated in 1999 with the onset of the Millennium Wing addition to the Grand Hotel. After it was completed the Excavation Division hit the road completing projects like Montrose Twp. Seymore Rd sanitary sewer extension, Flushing Twp. Mc Kinley Rd. water main extension, Mackinaw City Main Sanitary Pump replacement, and many other smaller municipal and residential projects.
As with everything as it grows it needs more room. In 2000 Maverick Construction moved to a larger facility at 1114 North State St., Saint Ignace, Mi. We now have a 9,500 sq. ft. wood shop, 1200 sq. ft. paint room, 800 sq. ft. mechanic shop, 1450 sq. ft. showroom, 1,400 sq. ft. office, 5,000 sq. ft. storage bldg.
As the main project coordinator on the Grand Hotel we have worn many hats from lowly laborer to design consultant working hand in hand with design professionals value engineering to achieve a comprehensive plan that incorporates esthetics, structural integrity, and constructability.
As with most durable goods in today's society all things are perceived with a certain product life. It is truly rewarding to be involved in projects which will definitely last for centuries to come, and know if remodeling does occur some worker will find Maverick Construction written on a board or steel column behind the finishes and on the skeleton of one of America's treasures.
Maverick Construction Inc. draws on all of our varied experience to build even the simplest projects. Be assured we will for your project.
Sincerely:

Robert A. Fraser (president)